Scots Bonnet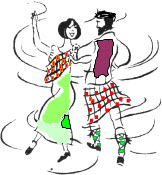 The Scottish Country Dance Group in St Quay Perros is called 'Scots Bonnet'. It was founded in 1990 by Annie and Malcolm MacGregor. It has legal charitable status (Loi de 1901) and is currently led by Dominique Robard.
The Royal Scottish Country Dance Society is based in Edinburgh, Scotland (http://www.rscds.org/).
Scottish country dances are structured in set formations, normally with two or three or four couples  in lines facing their partners. Sometimes dances have square or triangular formations, according to the design of each dance.
There are slow dances, using the uniquely Scottish 'Strathspey' music; and faster dances mainly using Reel or Jig time.
Highland dancing is an individual dance, and somewhat different: it is not considered as 'country dance' or 'Contre Danse' (meaning facing partners).
There are something like 18,000 dances in the Country Dance repertoire, dating from the 17th century to the present day. People are still creating new dances. The oldest collection of dances that has survived, was produced by John Bowie and published in Perth in the year 1789.
Scottish Country Dancers keep very fit! Our dance formations keep both your mind and your body active. Dancers share an evening of elegance and fun, and dancing together brings a real sense of shared pleasure.
Scottish dancing can be found all over the world: not only in St Quay, but also in Paris, Lyon, Montpellier, … London, Edinburgh, Glasgow, … Saint-Andrews and in every other Scottish town … as well as in Berlin, Karlsruhe, Frankfurt, Cologne, Freiburg, … Brussels, … The Hague and Eindhoven, … Turin and Bologna, … Madrid, Lisbon, … Prague, … Moscow, St Petersburg, … Tokyo (there are no fewer than 80 Scottish dance groups in Japan), etc.
Wherever you go, whenever you travel overseas, on holiday or on business you will find a dance group nearby where you will be welcomed with Scottish warmth and the joy of dancing the City of Belfast, Flowers of Edinburgh, Dunsinane, …
These are the names of dances you will find us enjoying in St Quay Perros every Tuesday evening from 8pm until 10.30pm in the community hall Yves Guégan Hall.
To know more about our group, visit the website or write us using the Contact Form.
To find out about the training weekends and balls that are organised all over Europe, we have a single joint address: http://www.celtic-circle.de/events.html