Scots Bonnet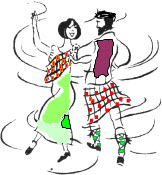 The Scottish Country Dance Group in St Quay Perros is called 'Scots Bonnet'. It was founded in 1990 by Annie and Malcolm MacGregor.
It has legal charitable status (Loi de 1901) and is currently led by RSCDS Certified Teacher Martine Guibert.
The Royal Scottish Country Dance Society is based in Edinburgh, Scotland (http://www.rscds.org/).
Scottish country dances are structured in set formations, normally with two or three or four couples in lines facing their partners. Sometimes dances have square or triangular formations, according to the design of each dance.
There are slow dances, using the uniquely Scottish 'Strathspey' music; and faster dances mainly using Reel or Jig time.
Date : samedi 14 décembre 2019
Horaire : de 19h à 23h
Lieu : Corfe Mullen Village Hall
Musiciens : Strathallan
Coût : 14 £
Programme